"Teddy"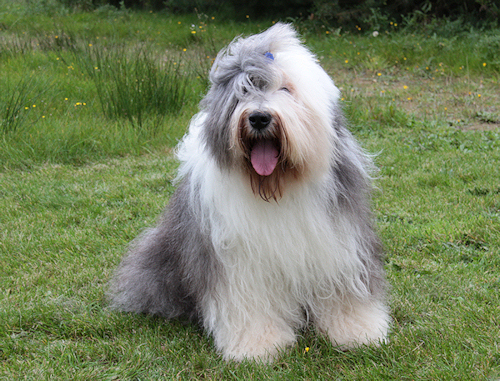 Geboren: 21-06-2003
Vader: Special Paint Sanka is Wobbling Sound
Moeder:  Image Unique Against all Odds
HD-B nbw. 38
Vrij van erfelijke oogafwijkingen
BAER-Tested +/+
Teddy, onze grote Teddy. Ze is groots in vele opzichten, maar wat als eerste opvalt als je met haar kennis maakt is haar formaat. Met haar 65cm. schofthoogte en bijna 50 kilo is het een flinke dame die zich niet makkelijk opzij laat schuiven. Grootst is ze ook van karakter. Geen hond hier in huis die zo stabiel en standvastig als Ted is. "Don't worry be happy" lijkt haar lijfspreuk te zijn.
Uiteraard is ze ook groots als het op lief zijn aan komt. Met al haar bijna 50 kilootjes kruipt ze maar zo bij je op schoot om daar gezellig een poosje te blijven liggen.
Teddy is onze roedelleidster en ze  volbrengt deze taak zonder slag of stoot. Bij akkefietjes onderling tussen roedelgenoten is haar verschijnen al genoeg om de rust weder te laten keren.
Teddy is de moeder van ons "Robbie Williams-nest" en het doet ons groot genoegen dat ze de meeste van haar kinderen haar geweldige karakter heeft meegegeven.